Ecuador President Rafael Correa 'wins referendum'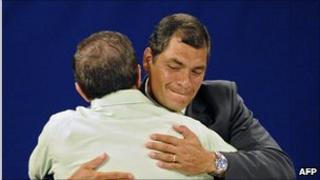 Ecuadorean President Rafael Correa has won a referendum on a wide range of reforms, according to the country's National Election Council.
An early count showed voters had backed him on all 10 referendum questions, which ranged from banning bullfighting to judicial and media reform.
Opposition politicians say the reforms are an attempt by President Correa to increase his power.
Analysts say that the results will be a boost to Mr Correa.
The national election council said its first "quick" sample count showed the president was ahead on all 10 questions by a range of 51-57% in what has been seen as essentially a vote of confidence on the 48-year-old leader who has governed since 2007.
President Correa declared victory after two separate polls indicated a large margin of voters had voted in favour of the reforms.
"Today, we made an important step toward peace, democracy and a new motherland," he said after the first results came out.
"The truth and the Ecuadorean people have been the winners in this."
Opposition politicians had argued that some of the more controversial proposals, such as giving the president more of a say over judicial appointments, constituted a power grab.
While casting his vote, President Correa dismissed the opposition's concerns.
"They've been saying it's totalitarian... [a word] used for a state in which things are done by force. We're doing this democratically," he said.
Analysts say that an overwhelming yes vote would improve President Correa's standing ahead of presidential elections in 2013, for which he could stand for a third time.