UN anti-drugs staff die as plane hits tree in Bolivia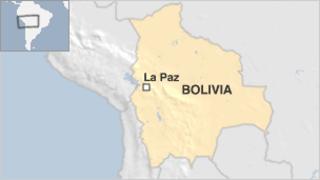 Four UN anti-narcotics staff and two Bolivian military pilots died when their plane crashed in western Bolivia, officials in the country have said.
The Bolivian Air Force said the Cessna, missing since Thursday, had been flying over the country's main coca-growing area in Los Yungas when it hit a tree.
The four UN staff worked for the Office on Drugs and Crime, monitoring coca.
Bolivia has seen an increase in the cultivation of coca, from which cocaine is derived.
Bolivian Air Force General Tito Gandarillas told reporters it went down after a direct impact against a tree 50m (164ft) high.
He said the bodies would take some time to be recovered.
"The place is completely inaccessible in a very tall forest," he said.
UN officials said the plane had been carrying out coca-monitoring duties when it came down in the heavily wooded area.
According to the United Nations Office on Drugs and Crime, Bolivia is the third largest producer of coca leaf after Colombia and Peru.