Calderon urges Mexicans not to abandon drugs battle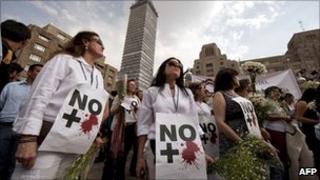 President Felipe Calderon has made an impassioned appeal to all Mexicans to support his government's four-year crackdown on drug cartels.
There was no option to withdraw from the fight against the drug cartels, Mr Calderon said in a televised speech.
His call came on the eve of a four-day silent march for peace which is due to reach the capital over the weekend.
The march was called by Javier Sicilia, whose son was murdered in March in an attack blamed on drug gangs.
"Your understanding and your support, the support of the whole of society, is essential, because some people, in good or bad faith are trying to stop the government's action," Mr Calderon said in a televised address late on Wednesday.
Mr Calderon rejected the idea that the operation he launched in December 2006, which has seen thousands of troops and extra police deployed against drug gangs, should end.
"On the contrary, we must redouble our efforts because if we stop fighting they will kidnap, rob and kill all over the country."
Outspoken critic
More than 34,000 people have been killed in drug-related violence over the past four years, the majority in shoot-outs between rival gangs.
But the rising violence in many parts of Mexico and the number of innocent victims have led to increasing calls for an end to the bloodshed.
Mr Sicilia has blamed both the government and the criminal gangs for the violence, saying they have "torn apart the fabric of the nation".
His criticism of what he termed President Calderon's "stupid strategy" against the drug cartels inspired peace demonstrations last month.
On Thursday, demonstrators were setting off from the city of Cuernavaca, 90km (56 miles) south of Mexico City in a silent march against violence.
Other marches are planned dozens of other cities and towns.
Mr Sicilia's 27-year-old son, Juan Francisco, was among seven people murdered near Cuernavaca in March. Their bodies were found in and around a vehicle and bearing signs of torture.
In his address, Mr Calderon said these killings had "shocked society's conscience".
He also condemned the killings of 183 people in the northern state of Tamaulipas, whose bodies were found in mass graves last month.
President Calderon said that Mexico had to reform its police forces, make its judicial system more efficient and transparent, and end a culture of impunity.
Such reforms, he said, would take time.
"But it is worth the effort, because it is the only solid and lasting basis for the future," Mr Calderon said.