Ecuador referendum tackles judges, media and bull-fights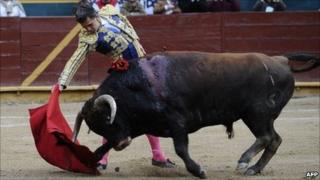 Banning bull-fighting and regulating media content are two of the controversial issues Ecuadoreans are preparing to vote on in a referendum on 7 May.
But more than the issues at stake, it is President Rafael Correa's polarising personality that is occupying centre stage in the campaign.
The referendum asks voters to back or reject 10 constitutional amendments or proposals.
According to some opinion polls, only 16% of the population have a full grasp of the questions, some of which are quite complicated and make reference to further explanatory notes.
More than 40% are undecided on the issues, polls suggest.
But while many voters may be ill-informed about the referendum, some of those who have already made up their minds have done so because of their feelings towards Mr Correa.
"We trust President Correa," said Luis Simba, holding a placard depicting the president as a superhero, during a recent demonstration in front of Quito's presidential palace.
"He has swept away all the bad things. Rain or sunshine, he is there to personally solve all this country's problems," he said.
Just as Mr Simba would vote Yes because he trusts Mr Correa, many are ready to vote No because they consider Mr Correa power hungry.
"The president already has all the powers, why does he want more?" asks comedian Carlos Michelena, dressed up as a fruit vendor, in one of many popular sketches for the No campaign.
"He must be already getting indigestion from all that power."
Mr Correa, who was elected in 2006 and again in 2009, has seen a violent police revolt - which the government alleges was an attempted coup - and several corruption scandals during his time in office.
Saturday's vote will be a popularity test for him, ahead of the 2013 presidential elections, when he could run again.
The referendum is also a test for the country's divided opposition, which so far has only been able to find common ground in the fight against Mr Correa.
A wide and unlikely front of opponents, which include the president's brother, indigenous leaders and bull-fighters, has come together for the No campaign.
Freedom of expression
Besides the immediate political significance of the vote, the issues at stake are also important.
Two questions deal with the issue of violent crime, which Ecuadoreans consider to be one of the major problems in the country.
The referendum asks citizens whether they want to increase the length of time people can be held without trial.
Mr Correa says this is necessary to fight impunity, but the opposition says detaining people for a long time without charges goes against civil liberties.
Last month, Fidel Araujo, a retired army mayor, was released without charge after being held for six months for masterminding the alleged coup on 30 September 2010.
The government has appealed against this, saying it shows six months is not long enough to put together evidence. The opposition says innocent people can be caught in the system.
Another two questions regard the judiciary. If the Yes vote prevails, the referendum will give the executive branch control over a transitional body that would appoint Supreme Court judges.
"Judges are as destructive and dangerous as criminals," Mr Correa has said.
Most in Ecuador would agree corruption is widespread in the judiciary and change is needed.
But legal experts are worried more political meddling in the judiciary will only worsen matters.
"Legal reforms are very much necessary, but not carried out this way," said Fabian Corral, dean of the law department at Quito's San Francisco University, who is campaigning for a no vote in the referendum.
"The principle of division of powers would be over," if the Yes side won, said Mr Corral.
Media ownership and control over published content are also on the ballot paper.
Ecuadorean media have historically been in the hands of the country's wealthy elites, and the government says it needs to counter that.
Mr Correa often refers to the country's press as "corrupt", while state-owned newspapers and TV stations are often used as tools for government propaganda.
But journalists are alarmed by the question, which asks whether citizens agree with the creation of a body that could regulate content. They believe they could have their hands tied by new rules.
Yes but no?
But nothing has been quite as controversial as the question that would ban bull-fights and cock-fights.
Both activities are popular during local celebrations, and bull-fighting has a long tradition that goes back to the arrival of the Spanish conquistadors in the 16th Century.
At a demonstration last week, Milton Calahorrano, president of Ecuador's Bull-fighters Union, marched in his typical tight torero outfit in Quito's scorching sun.
"The president doesn't like bull-fighting, and that's why he wants to ban it. You can't delete hundreds of years of tradition like this," he said.
"Bulls are meat like any other animal, sooner or later they die anyway."
This question is the one that pollsters are having most trouble with, as it seems to polarise public opinion, and the margins are too tight to predict what will happen.
Ultimately, most polls seem to suggest that Mr Correa's Yes campaign has been pretty successful so far, playing on popular ideas such as fighting crime, corruption and powerful elites.
But the number of undecided voters remains high, which means that in the end Mr Correa may not get the sweeping endorsement he might have hoped for.