Cuba blends peas and coffee again in cost-saving move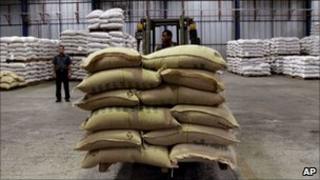 Cuba is resuming mixing coffee with roasted peas in a bid to cope with rising international coffee prices, the authorities say.
The blend for domestic consumption will help cut costs, given that coffee prices had risen some 69% over the last year, the announcement said.
Cuba needs to import coffee as its own production, despite recent investment, cannot meet local demand.
Pea-blend was common in coffee-loving Cuba for many years.
A statement in the official Communist Party newspaper Granma said production of coffee mixed with peas was resuming.
The price of coffee, Granma reported, had risen from $1,740 (£1,053) to $2, 904 (£1,758) per tonne over the past year, in common with many foodstuffs.
Peas had gone up by some 30% but at $500 a tonne the price was still far below the cost of coffee, Granma added.
At the same time, coffee rations for children aged up to six are being eliminated.
Bitter brew
The measures mean that the authorities will be able to continue distributing coffee with the subsidised price fixed at at 4 pesos (17 US cents) for a 115g (4oz) bag, the statement said.
Cubans, who tend to drink small cups of highly sweetened coffee, are used to pea-blended coffee.
"It's much, much more bitter than pure coffee, which is smoother," Havana resident Froilan Valido told AP news agency.
"But many people here are accustomed to it."
Cuba used to be a major exporter of coffee, but in recent years harvests have fallen short of local demand.
Last month, the head of the state-run coffee company, Antonio Aleman, said that $9.5m had been invested over the past five years to modernise production.
But he said that Cuba had to import some 12,000 tonnes to meet a total demand of 18,000 tonnes.
The return of pea-blend coffee was signalled last December when Cuban President Raul Castro indicated that Cuba could not afford to keep spending $50m to import coffee and distribute rations to all Cubans regardless of age.
"If we want to keep on drinking pure, un-rationed coffee, the only solution is to produce it in Cuba, where it has been proven that all the required conditions for its cultivation exist," he said.