Colombia prosecutor suspends Bogota Mayor Samuel Moreno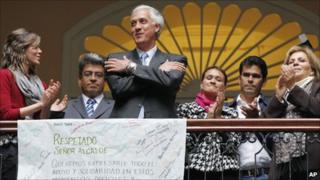 Bogota Mayor Samuel Moreno has been suspended from office for three months for alleged irregularities in overseeing contracts for public works.
Colombia's Attorney General Alejandro Ordonez said the suspension was a "preventive" measure while investigations were conducted.
Mr Moreno said he would challenge the decision in the courts.
The mayor's post is considered the second most powerful political position after the presidency.
"I have decided to suspend the mayor of Bogota, effective today, for a period of three months," the attorney general told a news conference on Tuesday.
Mr Ordonez said an inquiry would examine alleged failures to complete public projects on time, irregularities in the granting of contracts and "high additional costs".
He added that the suspension could be extended for a further three months if investigations were not complete.
Mr Moreno said that the charges against him did not relate to his duties as mayor and he would contest his suspension.
"We will fight it and we will contest it wherever possible and by all the various avenues provided by the law," he said.
Replacement
Mr Moreno, elected in 2007 as candidate of the main opposition party Democratic Pole, insisted that he would not resign.
The mayor's suspension comes amid a simmering corruption scandal.
Last week, his brother Ivan and several other people were accused of corruption relating to road building contracts, charges he denies.
President Juan Manuel Santos has named the current education minister, Maria Fernanda Campo, as temporary replacement for Mr Moreno.
Mr Moreno's suspension is likely to have a nationwide political effect, says BBC Mundo's Hernando Salazar in Bogota, as over the past seven years, Bogota has been the main electoral stronghold for the opposition.
In October, voters are due to go to the polls to elect a new mayor in Bogota, home to more than seven million people.