Venezuela's young men eye beauty contest success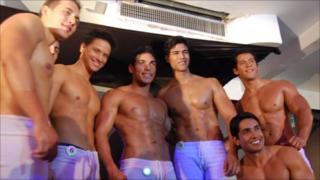 In the backroom of a nightclub in Caracas, a dozen young men primp and preen themselves in front of a mirror, styling their hair and applying face powder.
They are preparing to appear in the regional heat of the Mr Young Venezuela beauty pageant.
Among them is 22-year-old Leandro Toro. An accountancy student by day, he dreams of a career in the media, perhaps presenting a television show or acting in soap operas.
"I want to get myself out there in the media - modelling, television and radio. This opens the doors more quickly than studying," he says.
Leandro has been training in the gym and taking classes in public speaking and presentation in preparation for this, his first competition.
Beauty pageants for young men have become popular in Venezuela, where winning international competitions has long been the ambition of many women in the country.
As in traditional female versions of these contests, the participants are expected to present themselves, sing, dance and appear in a variety of outfits, including swim wear.
"It's no good having someone with a beautiful face if they can't answer a question," says Hernesto Boscan, a former Mr Venezuela and organiser of the event.
Plastic fantastic
With a population of some 28 million people, Venezuelan contestants have an extraordinary record in international beauty contests, winning Miss Universe six times, a feat only exceeded by the United States.
Such success is helped at least in part by the lengths some Venezuelan women are willing to go to in order to achieve physical perfection.
Many will have plastic surgery in order to compete in beauty pageants, most commonly nose jobs and breast implants, as well as visiting an orthodontist to improve their teeth.
The young men competing this week also expect to go under the knife in order to get ahead.
"If it's something I have to do in order to win, then I'll do it," says Freddy Pimentel, 26.
Plastic surgery of any kind is common in Venezuela, and admitting that you have had a procedure is not taboo.
Some estimates put the number of breast augmentation surgeries in Venezuela at between 30,000 and 40,000 a year.
Dozens of plastic surgeons are listed in the telephone directory and banks offer cheap loans specifically for those considering an aesthetic procedure.
"In the last few years, there's been an increase in surgeries for men - nose jobs, ears, chin implants, defining stomach muscles and removing fat from the waist," says Dr Andres Borges, a plastic surgeon and beauty pageant judge.
"Because it's a tropical country with a lot of beaches, there's plenty of opportunity to show off your body, and we see enhancing it with surgery as something natural."
Presidential disapproval
But not everyone is so enamoured with Venezuela's beauty business.
President Hugo Chavez recently called it "monstrous", revealing that one woman had written to him, asking him to help fund her breast implant surgery.
Doctors, he said "convince some women that if they don't have some big bosoms, they should feel bad".
He refused the woman's request.
Nevertheless, beauty pageants remain a staple of Venezuelan culture, with nationwide contests bringing in some of the biggest television audiences.
In his heat, Leandro does well, coming third and winning a spot in the final in a few months' time.
"I'm very happy. I've got a long way to go, but I'm optimistic," he says, with a wide grin.