Honduras drops ex-President Manuel Zelaya charges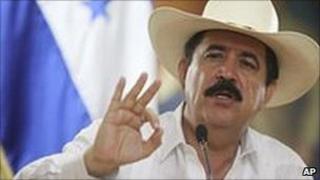 An appeal court in Honduras has dropped all corruption charges against former President Manuel Zelaya, who was ousted and forced into exile in June 2009.
The court's decision clears the way for his possible return and could also see Honduras readmitted to the Organization of American States (OAS).
Honduras was expelled from the OAS and many countries broke off ties after Mr Zelaya was removed from power.
Prosecutors said they were considering an appeal against the court's ruling.
The appeal court dismissed the charges against Mr Zelaya, of fraud and of falsifying documents, charges he had described as politically motivated.
OAS Secretary General Jose Miguel Insulza said that the court's decision "put an end to the uncertainty over the former president's legal situation".
Mr Insulza said consultations would begin on readmitting Honduras, given that the main condition for the country's return had been fulfilled. A judge had previously revoked arrest warrants against Mr Zelaya.
Relative stability
Mr Zelaya, who currently lives in the Dominican Republic, had said he would not return home unless he was guaranteed legal immunity.
The former president was bundled out of Honduras by the military in June 2009 after he failed to abide by a Supreme Court order to cancel a non-binding vote on changing the constitution.
His critics said his planned constitutional consultation aimed to lift the one-term limit on serving as president - paving the way for his possible re-election.
Mr Zelaya repeatedly denied this and pointed out that it would have been impossible to change the constitution before his term in office was up.
His removal from office left Honduras politically isolated for several months.
However, a period of relative stability began with the election of Porfirio Lobo as president in elections in November 2009.
Many governments, including the US, have recognised the Honduran government's legitimacy and re-established the ties cut during the height of the crisis.