Brazil's Dilma Rousseff in hospital with pneumonia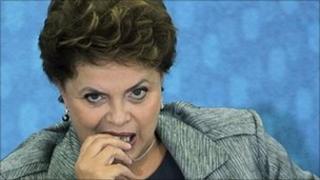 Brazilian President Dilma Rousseff is in hospital suffering from pneumonia, her spokesman Rodrigo Baena says.
Ms Rousseff had been admitted to a hospital in Sao Paulo on Saturday after suffering from severe flu symptoms for several days, he said.
He added that the president would stay a second night for further tests.
Ms Rousseff, 63, had to cancel her participation at the World Economic Forum in Rio de Janeiro on Friday because she felt ill.
Ms Rousseff underwent treatment for a cancer in the lymphatic system in 2009. She is said to have recovered well.
The first female president of Brazil, she was elected as the Workers' Party candidate in 2010 and inaugurated on 1 January 2011.
During the government of President Luiz Inacio Lula da Silva she was energy minister and chief of staff.