Argentine writer Ernesto Sabato dies, age 99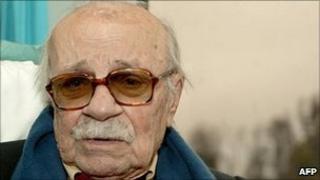 Argentine writer and human rights champion Ernesto Sabato has died aged 99 at his home near Buenos Aires.
His wife, Elvira Gonzalez Fraga, said he had suffered from bronchitis.
He won some of the most prestigious prizes in Hispanic literature but he was also known for his criticism of military regimes in Latin America.
He headed the "Dirty War" commission that investigated the killings of thousands of people under Argentina's military rule in the 1970s and '80s.
Sabato's works include The Tunnel (1948), On Heroes and Tombs (1961) and The Angel of Darkness (1974).
Secrets and madness
When appointed in 1983 to investigate the fate of those who disappeared during Argentina's military rule, he described the task as "a slow descent into hell".
His commission's comprehensive account was later used to prosecute nine members of the military establishment.
As a young man, Sabato studied physics and earned a doctorate, but became disenchanted with what he saw as the misuse of science.
When he lost his job as a university lecturer in Argentina after criticising the government at the time, he gave up on science altogether.
He became very influential in the literary world throughout Latin America, despite the fact that he had only published three novels - the only survivors of his tendency to burn his manuscripts.
"It's not reasonable, really, but all my life I tended to destroy things - my own things - not other people's," he once said.
"It may be because I considered that all my work was imperfect, impure, and I found that fire was purifying.
"I was about to burn On Heroes and Tombs after many years of work, but my wife became ill because of this decision, so I changed my mind."
On Heroes and Tombs, his second novel, is considered to be his masterpiece.
Sabato was also a prolific essayist who wrote about metaphysics, politics and tango.
The irony of Sabato's life is that while he did much to bring light to the cruelties of the Dirty War, his own writings were dark and brooding portrayals of worlds of secrets and madness.