Colombian 1985 Supreme Court raid commander sentenced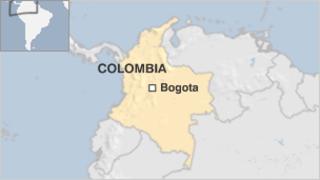 A Colombian general has been sentenced to 35 years in prison for his role in a military raid during a hostage crisis at the Supreme Court in 1985.
General Jesus Armando Arias Cabrales was a military commander when left-wing rebels took a number of judges hostage.
In the operation to retake the building, all of the rebels and eleven of the judges were killed, and eleven people disappeared.
General Arias was found guilty of their forced disappearance.
He was also banned from public office for 20 years.
General Arias was the commander of the military in the capital, Bogota, when rebels from the left-wing M-19 movement took control of the city's palace of justice.
Bloody battle
Dozens of rebels took the building on 6 November 1985 with the stated aim of putting the then- President Belisario Betancur on trial.
The government refused to negotiate, and sent in the military.
The rebels took those inside the building hostage and killed Chief Justice Alfonso Reyes Echandia.
In the 27-hour battle to retake the palace which followed, more than 100 people were killed, including 11 of the 24 supreme court justices, and all of the rebels.
Eleven people survived the siege. Most of them were workers in the building's cafeteria.
Video footage showed them being taken by the military from the burning building.
Prosecutors said they were taken to a nearby building and interrogated, on suspicion of having collaborated with the rebels.
They were never seen alive again.
General Arias is the second member of the armed forces to be sentenced in connection with the storming of the Palace of Justice.
Last year, Col Alfonso Plazas Vegas was sentenced to 30 years in prison, also for the forced disappearances.