Tijuana 'cartel boss' Arellano Felix extradited to US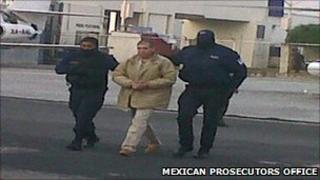 Prosecutors in Mexico have extradited the alleged leader of the Tijuana drug cartel, Benjamin Arellano Felix, to the United States.
The cartel, now weakened, once controlled much of the flow of drugs from the northern Mexican city of Tijuana to the US.
Prosecutors say Mr Arellano Felix, 59, led the cartel's criminal and financial operations.
He will face trial in a federal court in San Diego, in California.
Family business
Mexican authorities handed Mr Arellano Felix over to US federal agents on Friday.
At its height, the Tijuana cartel, also known as the Arellano Felix Organisation after the family running it, is thought to have been the main supplier of cocaine and marijuana to the US.
Benjamin Arellano Felix is accused of leading the cartel from 1989 until his arrest in 2002, overseeing its drug trafficking operations and the kidnapping and murder of rival traffickers, informants and members of the security forces.
He is also facing charges of money laundering.
After Benjamin Arellano Felix's arrest in Mexico in 2002, his younger brother Francisco Javier is believed to have taken over the leadership of the cartel until his own arrest in 2006.
Another brother, Eduardo, is thought to have taken over the reins for the following two years until his capture in 2008.
Mexican officials believe the cartel is now run by a sister, Enedina Arellano Felix, and her son, Luis Fernando Sanchez Arellano.
Ramon Arellano Felix, considered the most violent of the brothers, was killed in a shoot-out with police in 2002.
Mexican security forces say the cartel is severely weakened, and that much of its turf has been taken over by rival gangs.