Venezuelan prisoners hold 22 officials hostage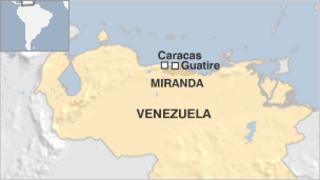 Inmates at a jail in Venezuela have taken the prison director and 21 other officials hostage in an effort to draw attention to an alleged tuberculosis outbreak.
The prisoners at El Rodeo II prison in Guatire in Miranda state are demanding a medical team be sent into the jail to deal with the alleged outbreak.
The government denies there is a tuberculosis outbreak.
Officials say they will not negotiate until the inmates release the hostages.
Stand-off
Deputy Interior Minister Edwin Rojas said holding the officials hostage was "not the most adequate way [for the inmates] to proceed to make their grievances known".
The prisoners took the officials hostage at midday (1630 GMT) on Wednesday.
They said they took action after an inmate, who they said had tuberculosis, was returned to the prison after a hospital visit.
But Mr Rojas insists the inmate had been diagnosed with pneumonia and was not suffering from tuberculosis.
He told the 1,200 inmates at El Rodeo II that "the government was fighting for the prisoners".
"We believe in peaceful dialogue, in peaceful coexistence and the respect of human rights, not only of the prisoners but also of those who work in the prison system," he said.
He said a medical team was on stand-by and would be sent into the prison as soon as the inmates released the hostages.