Cuban anti-Castro militant Orlando Bosch dies aged 84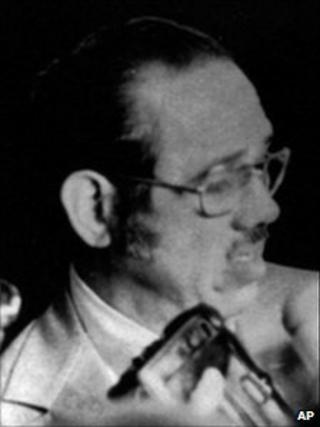 Prominent Cuban anti-Castro militant Orlando Bosch, 84, has died in the US city of Miami.
Mr Bosch was arrested in Venezuela for the bombing in 1976 of a Cuban airliner, in which 73 people died.
He was later acquitted of the charges, first by a military court, and later by a civilian court.
Speaking in 2005, Mr Bosch said the truth about the bombing would be revealed in a tape and documents to be made public after his death.
The cause of his death has not yet been released.
Revolutionary past
Orlando Bosch was a paediatrician but gave up his job to pursue the struggle against communist rule in Cuba.
After first supporting the Cuban revolution which toppled the then-leader Fulgencio Batista in 1959, Orlando Bosch soon became disillusioned with the leaders of the revolution, Fidel Castro and Che Guevara.
In his 2010 autobiography, Mr Bosch wrote that his opposition to communist rule was triggered when revolutionary leader Che Guevara refused Mr Bosch's request not to execute two men accused of being spies for Fulgencio Batista unless they were tried first.
Mr Bosch left Cuba for Miami in 1960, from where he allegedly organised a series of sabotage acts aimed at destabilising the Castro government.
In 1968, he was found guilty of participating in an attack on a Polish freighter and sentenced to 10 years in prison.
Shortly after being released on parole after serving four years of his sentence, Mr Bosch fled the United States.
He spent time in hiding in Chile, Costa Rica, the Dominica Republic and Venezuela.
In 1976, he was arrested in Venezuela in connection with the bombing the same year of a Cuban airliner, in which 73 people died.
Mr Bosch and fellow Cuban militant Luis Posada Carriles were believed to be the masterminds behind the bombing.
The two men have always denied the charges, and both were acquitted by a Venezuelan military court in 1980.
They were subsequently tried in a civilian court, which also acquitted them.
Mr Bosch returned to Miami in 1988, from where he continued to raise money for the anti-Castro cause.
His wife Adriana said he died after a lengthy hospital stay in Miami.
She said he had been suffering from complications from various illnesses and had been in hospital care since December 2010.