Mexican officials recover 96 bodies so far in Durango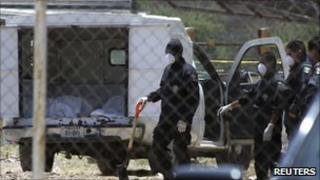 Mexican police have found 21 more bodies during a search of mass graves in the city of Durango, bringing the total uncovered in recent days to 96.
Officials said digging would continue at the sites, and have not ruled out finding further remains.
The number of bodies unearthed in the state of Tamaulipas rose to 183 after six more remains were found.
Durango and Tamaulipas have seen high levels of violence as drug gangs battle for control of smuggling routes.
The existence of the mass graves in Durango came to light in early April, when four bodies were found in a car repair workshop.
To date, 79 sets of remains have been exhumed from this site, and a further 17 bodies found at another location in the city.
Officials say it is believed the corpses had been buried for at least a year. None of the bodies has been so far identified.
On Tuesday, Mexico's Attorney General Marisela Morales said a further six bodies had been found in mass graves in San Fernando in Tamaulipas.
The discoveries bring the number of remains exhumed from 40 sites there to 183.
Most of the victims are thought to have been abducted from long-distance buses travelling north to the US border. To date, two people have been positively identified.
The motive for the murders is unclear, but there is speculation the cartel gunmen may have killed people who refused to join their ranks or seized them to extort money.
Authorities say 74 people, including 17 police officers, have been arrested on suspicion of involvement in the killings.
On 16 April officials said he main suspect in the murders had been arrested.
Omar Martin Estrada, known as El Kilo, is accused of being the local leader of the Zetas drug cartel in San Fernando.
National Security spokesman Alejandro Poire said more federal security forces had been sent to Tamaulipas to investigate the killings and prevent further murders.