Google to amend Rio maps over Brazil favela complaints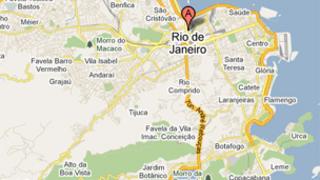 Google has agreed to amend its map of Rio de Janeiro, after city officials said it gave too much prominence to favelas, Brazilian media report.
Favelas, sprawling shanty towns which are home to tens of thousands of people, are a defining feature of Rio.
But the Globo newspaper said their labelling on the map and the absence of wealthier districts and tourist sites gave a bad impression of the city.
Google told Globo it would change the way the information was displayed.
When viewed in a large-scale format, the maps of Rio pinpoint several of Rio's more than 600 favelas, including some of the less well-known ones.
The middle class neighbourhood of Cosme Velho - where tourists can take a rack railway en route to the famous statue of Christ - is not labelled, but the smaller Favela da Villa Imaculate Conceicao is.
Sugar Loaf mountain is also not marked and in Humaita, the favela area is labelled in the same size text as the entire district.
Globo warned earlier this week that the map gave a "false impression that the urban area is nothing more than an immense cluster of favelas".
"The maps turn Rio into a favela," one resident of Humaita told the paper. "Anyone who doesn't know the city would be frightened."
Antonio Pedro Figueira de Mello, special secretary of tourism, said the maps were "absurd" and that Google had turned down a request in 2009 that they be changed.
But on Monday, a spokesman for Google told the newspaper the company had never intended to "defame Rio", and that the person who drew up the maps was a native of the city.
"The problem is a lack of discretion in the way the information has been posted on the map," said Felix Ximenes, adding that Google had bought the data but then used it without prioritising it.
Mr Ximenes said the maps would gradually be amended to change the text sizes and to apply labels to districts. The favelas would still be marked, but only once the user had zoomed in.
It is not the first time Google has run into trouble over its mapping service.
Earlier this year, the north-west German town of Emden complained that the map gave its harbour to the Netherlands.
And in November 2010, Costa Rica said Google had fuelled a border row with its neighbour Nicaragua, after its map of the region mistakenly placed a disputed island on the Nicaraguan side of the border.
Google apologised and revised its map.