Mexican hunger strike teenager wins royal wedding trip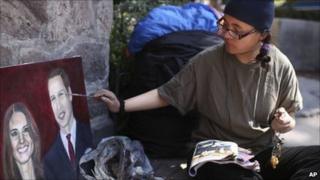 A Mexican teenager who staged a hunger strike to try to obtain an invitation to the British royal wedding has been given the money to fly to London.
Estibalis Chavez, 19, made headlines in February with her 16-day fast outside the British Embassy in Mexico City.
Her story touched Mexican lobbyist Octavio Fitch Lazo, who agreed to lend her the money for her flight.
Ms Chavez wants to give Prince William and Kate Middleton an oil painting she has done of the couple.
"My plan... is to find a paparazzi or one of these people that follow them all the time and see if I can give them their gift," she told the Associated Press.
"I know it's not the nicest way, but it's clear the royal protocol would never allow me near them."
Diana fan
Estibalis Georgina Chavez left her home in the slums north of Mexico City to camp outside the British Embassy in February and begin her hunger strike.
"At the time I didn't see it as something so drastic and dramatic," she said. "[People] said I risked my health for something many believe to be frivolous and silly. But, I think that for me, it was the only way to achieve my goal."
She was repeatedly told by British officials that there were no more invitations available.
Mr Lazo, a member of an association lobbying Mexico's congress to adopt silver coinage, became aware of her plight after walking past her camp one day, and decided to offer her the air fare.
"It moved me to see that no one understood her very well... I think she is right to fight for what she wants," he said.
Ms Chavez has long had an interest in the British Royal Family, having been told by her father that her mother - who died when she was born - had been a big fan of Princess Diana.
Royal-related books, drawings and paintings fill the family's modest home.