Brazil: Rio school gunman 'motivated by bullying'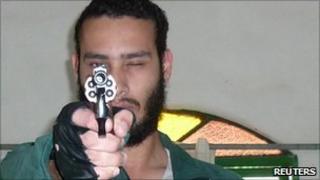 A Brazilian gunman who shot dead 12 children at his former school in Rio de Janeiro last week before killing himself was motivated by bullying, letters he wrote have revealed.
The messages left by Wellington Menezes de Oliveira, 23, were released by police along with videos and photos.
In them, he praises a US student who killed 32 people in 2007, calling him his "brother".
The school massacre in Rio was the first of its kind in Brazil.
"I hope this serves as a lesson, especially to those school officials who stood by with their arms crossed as students were being attacked, humiliated, ridiculed," Menezes de Oliveira says in one video.
"I want to leave very clear that I am not responsible for the deaths that will occur, even though my fingers will be on the trigger," he adds, blaming the murders he went on to commit on bullies.
The rambling messages also mention God and quote from the Bible.
Photos show him posing with the two handguns that he used to attack the Tasso da Silveira school in Realengo, a poor suburb in western Rio.
Menezes de Oliveira moved through the school shooting pupils in the head at close range.
He turned a gun on himself only after he was shot and wounded by a policeman.
Suffering
The mayor of Rio, Eduardo Paes, has said the city will compensate the families of the dead.
"These families have been through indescribable suffering," Mr Paes said.
"It is an irreparable loss, but some kind of compensation has to be discussed".
The mayor did not give details of how much the compensation would be or when it would be paid.
Brazil is no stranger to gun violence, with frequent shoot-outs in major cities, but the school attack in Rio de Janeiro shocked the nation.
The shooting sparked a debate on gun control, and lawmakers have said they will propose a national vote on whether to ban the sale of firearms.