Chile to exhume former President Salvador Allende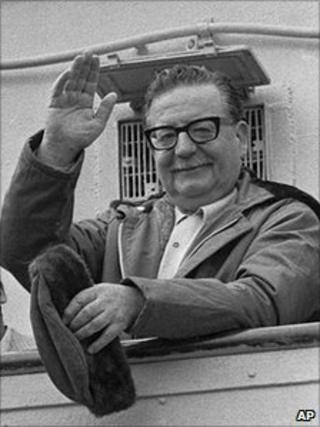 The remains of Chile's former President Salvador Allende will be exhumed as part of an inquiry into historic rights abuses, a court has ordered.
Investigators are trying to determine whether Allende killed himself, or was killed by soldiers in the 1973 coup that brought Augusto Pinochet to power.
Allende's body was found in the presidential palace after the building had been attacked by troops and planes.
Judges ruled the exhumation would take place in the second half of May.
Thousands were killed, disappeared or tortured under Gen Pinochet's rule, which lasted until 1990.
The Allende case is one of 726 alleged rights abuses that investigators are looking into.
An official post mortem report found he committed suicide using a rifle given to him by his friend, Cuban leader Fidel Castro.
Allende's doctor confirmed that conclusion and it was accepted by his family.
But some of his supporters continue to believe he was killed by soldiers.
Polarising figure
Earlier this week, his daughter Isabel confirmed that the family had asked for the body to be re-examined.
"We requested the exhumation and autopsy," said Ms Allende, who is a senator in Chile's parliament.
"I think it's the most rigorous and definitive proof to clear up the causes of his death and we think this is going to be tremendously important."
Allende, who was 65, died in La Moneda presidential palace on 11 September 1973 as it was being bombed by air force jets and attacked by soldiers.
Correspondents say the investigation is likely to stir up bitter emotions in Chile, where Allende still divides opinion.
To some Chileans he was a reckless Marxist intent on turning Chile into a new Cuba; for others, he was a democratic socialist whose death remains the most potent of all the atrocities committed by Pinochet's forces.
Allende came to power in 1970 as Chile's first democratically elected Marxist president.
He pursued a "Chilean path to socialism", nationalising industries and farms.
But his radical policies polarised Chile and angered the US, which backed the military coup against him.
The coup ushered in 17 years of rule by Gen Pinochet, during which more than 3,000 political opponents were killed or "disappeared" by the military and thousands more were imprisoned and tortured.
Gen Pinochet died of a heart attack in 2006 at the age of 91 while under investigation for corruption, torture and murder.