No Farc in Venezuela, says Colombian President Santos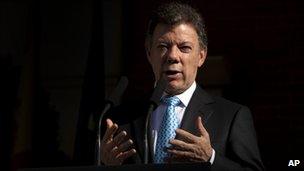 Colombian President Juan Manuel Santos says Venezuela is no longer harbouring Colombian left-wing rebels.
Accusations by former Colombian President Alvaro Uribe that Venezuela was giving refuge to Farc guerrillas led to a break-down in relations between the two neighbours last year.
President Santos also praised Venezuela for handing over two alleged rebels from another left-wing group on Monday.
Mr Uribe said he doubted Venezuela was free of Farc rebel camps.
Speaking on Spanish television during a visit to Madrid, President Santos said the rebel camps which Colombian intelligence had detected on Venezuelan soil last year were no longer there.
He said that in his view, Venezuela was delivering on its promise to prevent Farc rebels from crossing the border.
Mr Santos added that the handover by the Caracas authorities of two alleged members of the ELN guerrilla group on Monday proved Venezuela's commitment to the fight against left-wing rebels.
The two men were wanted in connection with a deadly attack on Colombian marines.
However his predecessor, Alvaro Uribe, cast doubt on the president's statement.
In three tweets sent from his Twitter account and tagged "terrorist hideaway", Mr Uribe asked where a number of Farc rebels were - implying they were in Venezuela.
In July 2010 Venezuelan President Hugo Chavez severed diplomatic ties with Colombia after being accused of providing a safe-haven for guerrillas.
Relations between the two countries only began to thaw after Mr Uribe left office.
Related Internet Links
The BBC is not responsible for the content of external sites.