Guatemala court clears President Colom's divorce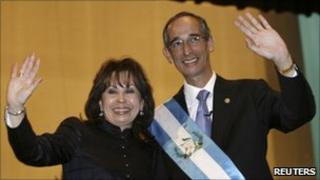 The constitutional court of Guatemala has quashed all legal challenges to the divorce of the First Lady, Sandra Torres, and President Alvaro Colom.
Ms Torres is now in theory free to run in the next presidential election to succeed her husband.
The couple filed for divorce in March to overcome a constitutional ban on close relatives of the president running for office.
The opposition says the divorce is a cynical political ploy.
Opposition groups had launched a last-ditch attempt to stop the divorce proceedings but Guatemala's highest court has now made a final ruling.
It is now up to the electoral authorities to officially approve Ms Torres as a presidential candidate.
Barring a further challenge from the opposition, the approval is expected to be a formality.
Love for Guatemala
Sandra Torres who is Mr Colom's third wife confirmed her intention to separate from her husband of eight years in March in a tearful address to the nation.
She said she and Mr Colom were putting their love for Guatemala ahead of their "great and solid" love for each other.
In April, a family court approved their divorce and the couple has since lived apart.
Ms Torres has played a prominent role in Alvaro Colom's presidency, supervising the government's poverty relief programmes.
If elected, she will be Guatemala's first female president.
But she is facing a tough challenge from Otto Perez Molina, whose promise of a tough line against rising crime has given him a comfortable lead in the polls.