Defeated Haitian candidate Manigat rejects results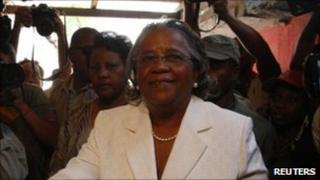 The defeated candidate in Haiti's presidential election, Mirlande Manigat, has accused the electoral council of falsifying the results.
Preliminary results gave Ms Manigat's rival, Michel Martelly, a clear victory with more than 67% of the vote.
The results are not yet final as legal complaints can be filed until 16 April.
But correspondents say Mr Martelly has such a large margin according to the preliminary results that his victory seems almost certain.
Only hours after the preliminary results were made public, Ms Manigat told her supporters "you voted, and they stole your vote at the tabulation centre".
Ms Manigat said she was "outraged" for the country she loved and called the results an "electoral hold-up".
However, a member of her campaign team said she would not immediately challenge the results.
Winning formula
The preliminary figures released on Monday gave Michel Martelly more than two-thirds of the vote.
After the results were announced, thousands of Mr Martelly's supporters took to the streets of the capital, Port-au-Prince, dancing and cheering.
Mr Martelly benefited from the support of five candidates eliminated in the first round. Fellow musician Wyclef Jean, whose own candidacy was ruled invalid, also backed Mr Martelly.
The run-off vote was supposed to have taken place in January but was delayed.
Observers said the second round was much better organised than the first in November, when turnout was only 23%.