Mexico violence: Three killed in Acapulco shoot-out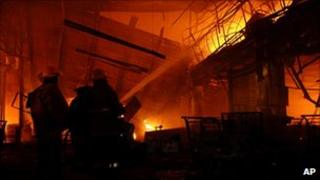 Three people have been killed in a shoot-out between the security forces and gunmen in the Mexican resort town of Acapulco.
Officials say police and soldiers surprised a gang as they were setting fire to a shopping centre.
In the two-hour gun battle which followed, a soldier and two of the alleged gunmen were killed.
Acapulco, a popular holiday destination, has seen a marked increase in violence this year.
A cinema, a supermarket and a number of shops burned to the ground.
Police said four people were injured in the attack and seven alleged gang members arrested.
Acapulco is in an area of Mexico where the drug trade is controlled by La Familia Michoacana, one of the country's most violent cartels.
Last month, 10 people were killed in the city when gunmen stormed into a nightclub and opened fire on those inside.
In the same week, two young boys were shot dead as attackers chased a man through their house.