Haiti: Michel Martelly 'defeats' Mirlande Manigat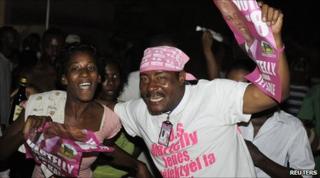 Musician Michel "Sweet Micky" Martelly is the winner of Haiti's presidential run-off, according to official preliminary results.
Figures indicate he secured more than two-thirds of the vote, beating former first lady Mirlande Manigat.
If the results are confirmed on 16 April, Mr Martelly, 50, will succeed President Rene Preval, who has been in office for five years.
Haiti is still struggling after the 2010 earthquake and a cholera epidemic.
Turnout in the second round was high and voting was largely peaceful, although still marred by fraud.
Correspondents say that although a period of appeal must be observed until 16 April, the wide margin between the rival candidates means Mr Martelly's win is all but assured.
After the preliminary results were announced, thousands of Mr Martelly's supporters took to the streets of Port-au-Prince, dancing and cheering. Witnesses said some fired automatic rifles into the air.
Although the celebrations were peaceful, the US embassy urged its citizens to "stay indoors and avoid large crowds for tonight".
The singer made no public statements but thanked his supporters via Twitter, adding: "We're going to work for all Haitians. Together we can."
He is due to hold a news conference on Tuesday.
The BBC's Andy Gallacher says that if Mr Martelly - who has promised change for the Haitian people - becomes the next president, he will face some serious challenges.
Hundreds of thousands of earthquake survivors still live in squalid tent cities as the cholera outbreak which has killed thousands remains out of control.
Mr Martelly is politically inexperienced but his message of reform appealed to Haiti's poor and unemployed, our correspondent adds.
Fatal shootings
Mr Martelly benefited from the support of five candidates eliminated in the first round. Fellow musician Wyclef Jean, whose own candidacy was ruled invalid, also backed Mr Martelly.
The run-off vote was supposed to have taken place in January but was delayed.
Observers said the second round was much better organised than the first in November, when turnout was only 23%.
Jude Celestin, who had the backing of outgoing President Preval, was initially placed second in the first round but withdrew from the race after international monitors found there had been widespread fraud in his favour.
Two people were shot dead during second-round voting in clashes between rival political factions in different rural areas.
The electoral commission extended voting by an hour because some polling stations were missing voting materials.
But the head of the commission said at the time that reports of irregularities would have "no impact on the electoral process as a whole".
Mr Preval's mandate formally ended on 7 February but he has parliamentary approval to stay in office until 14 May.