Bolivia's Morales to take Chile sea dispute to court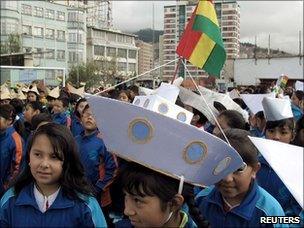 Bolivia has said it will take Chile to international courts to try to recover access to the Pacific Ocean, which it lost in a war 132 years ago.
President Evo Morales said Chile had failed to respond to a deadline he had set for progress in negotiations.
Bolivia's loss of the sea was an "open wound" that must be healed, he added.
Chilean President Sebastian Pinera has rejected the remarks, calling them a "serious obstacle" to relations.
Mr Morales was speaking on Bolivia's "Day of the Sea", when it commemorates its defeat by Chile in the 19th Century War of the Pacific.
"Our fight for maritime revindication, which has marked our history for 132 years, must now include another element", he said at a ceremony in La Paz.
"We must go to international tribunals and organisations to demand free and sovereign access to the sea."
He added that Bolivia would continue dialogue with Chile while seeking a legal solution to its landlocked status.
Hours later, Chile expressed its "categorical rejection" of the Bolivian announcement, calling it an "unacceptable pretension".
"Bolivia cannot expect a direct, frank and sincere dialogue while it simultaneously manifests its intention to go to international tribunals," said Chilean President Sebastian Pinera.
Bolivia broke off diplomatic relations with Chile over the territorial dispute in 1978.
They resumed ministerial-level talks on the issue earlier this year, but Chile declined to respond to Bolivia's 23 March deadline for it to come up with concrete proposals on how to meet its demands.
Chile is involved in a similar dispute over maritime boundaries with Peru, which also lost territory in the War of the Pacific.
Last October, Peru signed a deal allowing Bolivia to build its own port on Peru's Pacific Coast.
The demand for the return of its lost coastline is the subject of powerful national sentiment in Bolivia.
The landlocked Andean nation maintains a small navy, and schoolchildren are taught that regaining access to the sea is a patriotic duty.