Obama to address Latin American people on Chile visit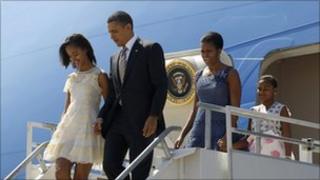 President Barack Obama is set to outline his vision of deeper US ties with Latin America in a speech in the Chilean capital, Santiago.
Mr Obama is expected to praise Chile's transition from military rule to democracy and its economic growth.
He is also likely to take questions on US military action in Libya as events in the Arab world continue to partly overshadow his regional tour.
Mr Obama arrived from Rio where he praised Brazil as a model of democracy.
The president, who is on a five-day Latin American tour that will also take him to El Salvador, said Brazil's flourishing economy and growing democracy were a model for other countries.
Mr Obama's remarks show he is having to focus attention on events in Libya.
President Obama landed in Santiago, on Monday afternoon.
He will hold a joint news conference at 1805 GMT with Chilean President Sebastian Pinera, when he is expected to comment on the air strikes on Libya.
President Obama is then due to deliver his keynote speech, setting out the importance of Latin America to the United States.
"Promoting a safe, stable, and prosperous hemisphere where the United States and our partners share responsibility on key regional and global issues is the most effective means of defending our core democratic values in the Americas," Mr Obama told Chile's El Mercurio newspaper ahead of his visit.
Mr Obama is also set to hold up Chile's transition from military rule under Gen Augusto Pinochet in the 1970s and 1980s to democracy as an example for other countries.
Seismic country
The nuclear crisis in Japan is also set to be addressed in the light of Chile's own experience of earthquakes.
"You'll see both presidents express solidarity with the Japanese people in the light of events that are unfolding and the tragedy that struck Japan with the earthquake and tsunami," Dan Restrepo, Mr Obama's senior Latin America adviser, told reporters.
Last week, the US and Chile signed a nuclear energy co-operation agreement, provoking vocal opposition from critics who say nuclear energy should not even be considered in Chile.
"We are a seismic country. We face the same risk," said protester Claudia Hernandez as some 2,000 people took to the streets of Santiago on Sunday to protest against Mr Obama's visit and the nuclear deal.
"We are in favour of the renewable energy potential in this country, which is huge and would be enough for the needs of Chile," said Greenpeace activist Matias Atun.
The Chilean government has stressed that the accord is about training nuclear engineers and not building a reactor.
From Chile, Mr Obama heads to El Salvador for talks with President Mauricio Funes.
Rising crime and insecurity in Central America is concerning US officials.