Slim wrestles Televisa and TV Azteca over Mexico market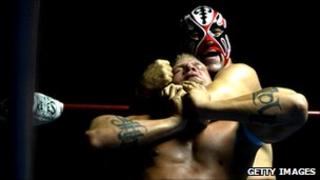 It is the ultimate "lucha libre" match of Mexico's business world - and, like the Mexican wrestling contests, it is being fought in the public eye.
In one corner, Carlos Slim, ranked the world's richest man by Forbes magazine and head of a multi-billion empire with interests around the world, including Telmex, Mexico's dominant phone company.
In the other, the owners of Mexico's two biggest media groups, Televisa and TV Azteca, powerful players in the entertainment industry and two of the largest media conglomerates in the Spanish-speaking world.
At stake is who comes out on top in Mexico's telecommunication and broadcasting markets, worth some $35bn (£21.5bn) annually.
Attack ads
It is a turf war for each other's business territory, in which they have enjoyed a comfortable and dominant position that they now see at risk from a rival.
And as the companies strive to be the top provider of bundled television, phone and internet services, the virulence and openness of their squabble has taken many in Mexico by surprise.
Attack ads and mutual accusations of ripping off Mexican consumers have been exchanged in the past few weeks in what has been dubbed "the battle of the monopolies".
The wider argument is over the regulatory framework for doing business in the telecommunications sector in Mexico; how government concessions are granted; limits to industrial concentration and diversity in the media world.
But the actual dispute comes down to how much a phone company can participate in the TV market, and how much TV companies can operate in the fixed and mobile telephone sector.
Mr Slim - who also owns part of the New York Times Company - wants to enter Mexico's lucrative TV market: 97% of Mexican households have a TV set, a figure which is higher than that for access to basic services such as drinkable water.
Emilio Azcarraga, head of Televisa group, and Ricardo Salinas Pliego, from Grupo Salinas which owns TV Azteca, want to profit from technological convergence by expanding their offer of other communications services.
And both sides want the government and regulatory bodies to protect their interests.
"This is a battle to polarise public opinion, but mainly to attract the attention of the authorities and achieve their support in the dispute," said Ramiro Tovar, a telecommunications expert at Mexico Autonomous Technological Institute (Itam).
'Different country'
Both Televisa and TV Azteca main news programmes have repeatedly broadcast reports critical of Mr Slim's dominant position in the phone market.
Telmex controls about 80% of the fixed line market and Telcel, his mobile phone operator, has 70% of the total number of users in Mexico.
In his Twitter account, Mr Salinas Pliego said Mr Slim's companies provide "a bad service, backward technology and a very expensive price that we all pay".
The accusations against Mr Slim who has an estimated fortune of $74bn (£45bn) have also been personal.
The richest man in the world was "a danger for (Mexican) national security because he represents 6% of GDP and more than 50% of the stock market", said Alejandro Puente, head of the National Chamber of the Cable Telecommunications Industry (Canitec).
Mr Slim's spokesman Arturo Elias Ayub dismissed such accusations as unworthy of attention.
"If Mexico had 10 businessmen who, like Mr Slim, employ 250,000 people, invest $4bn and donate $10bn to their (charitable) foundations, this would be a different country," he told the BBC.
Mr Slim has published a series of advertisements in newspapers and online that accuse the TV companies of having a "duopoly" in the television market.
He has also withdrawn advertising for all his companies - which include retail stores and restaurants - from Televisa and TV Azteca.
The official blog for his phone company Telmex, which was the result of telephone privatisation in 1990, said that "the TV duopoly confuses freedom of expression with freedom to exert pressure".
It also says that the fees for paid TV services in Mexico are among the highest in the Organization for Economic Co-operation and Development (OECD), of which Mexico is a member.
Meanwhile, the authorities have said that this is a conflict between private interests and that the dispute will be solved by regulatory bodies.
Consumers
The backdrop of a presidential election next year adds to the tension between the major players.
"Everyone is girding their loins," said Alma de la Selva, a telecommunications expert from Mexico's National Autonomous University (Unam).
Given that TV operators are known for supporting one particular candidate in the run-up to election, she says, the incumbent administration does not want to risk antagonising them by ruling against them.
What the dispute does do is remind everyone of the high level of industrial concentration in Mexico's economy.
A 2007 World Bank report highlighted these concerns.
"A particular feature of Mexico's economic structure that limits its competitiveness is the degree of market concentration in key economic sectors and the existence of public and private monopolies," the report said.
As for consumers, they seem to be mere spectators to the fight between the three "enemigos" with little to gain from whoever wins.
"Why don't they fight this war by lowering prices?" says Adriana Labardini, head of the Al Consumidor consumer rights organisation.
"If that had been the fight, we consumers would have been the first to pick a side - the one which offers better prices and quality. But we didn't see that."