Barack Obama visits Chile amid nuclear debate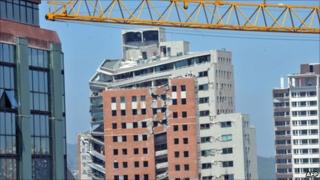 A few weeks ago, Barack Obama's trip to Chile promised to be little more than a formality - a chance for a courtesy meeting with the Chilean President Sebastian Pinera and a photo opportunity involving the US First Lady and the Obama daughters.
But events in Libya and at Japan's Fukushima nuclear plant have turned the trip on its head.
President Obama is visiting Santiago following a weekend of coalition air strikes against Libya and just three days after the US and Chile signed a nuclear co-operation pact .
That deal is modest. It opens the door for US experts to advise Chile should the South American country decide to develop nuclear energy in the future.
It does not commit Chile to build power stations, and if it had been signed a month ago few people would have even noticed.
But the Japanese earthquake and tsunami have radically altered the debate over nuclear power.
In Chile - which is every bit as prone to earthquakes as Japan - some critics are questioning why the country is even thinking of going nuclear.
"Japan marks the before and the after in the nuclear debate," former Chilean president Ricardo Lagos told Chile's Radio Cooperativa on the day the agreement was signed.
"In the past I was one of those who highlighted the benefits of Chile having nuclear power and people would look at me and say 'Yes, but this is a country of earthquakes'. I used to reply 'Look at Japan, they have just as many earthquakes as Chile and they have nuclear power'. Well, that argument is now over."
Last week, protesters from Greenpeace unfurled a banner opposite the presidential palace in Santiago urging Chile to abandon its tentative nuclear plans and rip up the agreement with the United States.
On Sunday, some 2,000 people marched through the capital chanting the same message.
Carolina Toha, a senior opposition politician, said the pact made Chile "the laughing stock of the world". Even Laurence Golborne, Chile's energy ministry, acknowledged that it will now be harder to sell the idea of nuclear power to an already sceptical Chilean public.
According to Marta Lagos, executive director of opinion poll organisation Latinobarometro, anger over the accord is being directed at Mr Pinera rather than Mr Obama, particularly because the Chilean leader has questioned the wisdom of developing nuclear energy in the past.
In 2006, Mr Pinera signed a declaration calling for the development of non-conventional renewable energy. It highlighted the dangers of nuclear energy in a country as seismically challenged as Chile.
Popular president
Mr Obama is likely to avoid the nuclear issue during his 24-hour visit and concentrate instead on regional concerns.
In his keynote speech on Monday afternoon, he will lay out goals on economic growth and development, democracy and human rights.
He arrives in Chile as one of the most popular US presidents ever to visit the region. Latinobarometro published a poll last week which showed that among Latin Americans, he had a higher approval rating than any other head of state in the Americas.
Last year, 73% of Latin Americans had a "good" or "very good" opinion of the US, a dramatic improvement from the years when George W Bush was in the White House.
In Chile, the figures are even more impressive. Some 81% of Chileans have a "good" or "very good" opinion of the US and 91% regard relations between the two countries as either "'good" or "very good".
But Mrs Lagos said the tremendous outpouring of goodwill towards Mr Obama at the time of his election in 2008 had started to dissipate, largely because his administration has done little to prove its interest in the region.
"The difficulty for Obama is that Latin Americans are no longer expecting roads, dams and infrastructure," she told the BBC. "They're expecting equal, dignified treatment, and these are intangible political goods that are much more difficult to deliver."
Mr Obama is only the third serving US president to make a full state visit to Chile following Dwight Eisenhower and George HW Bush.
On Tuesday the president will leave Chile for El Salvador, the last leg of his Latin American tour.