Carlos Castano murder: Nine men sentenced in Colombia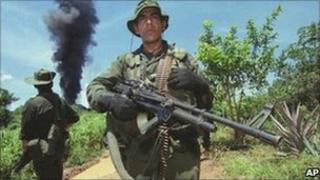 Nine men have been sentenced to 40 years in prison in Colombia for the kidnapping and murder of Carlos Castano Gil, the former-head of a right-wing paramilitary group, the AUC.
Among those sentenced was Mr Castano's brother, Vicente, another AUC leader who is missing and believed dead.
Mr Castano was killed at a ranch in the department of Antioquia in 2004.
The killing is thought to have been part of a power-struggle within the AUC over involvement in the drugs trade.
Shallow grave
Carlos Castano was the powerful commander of the United Self-Defence Forces of Colombia, or AUC, with his brother and other notable leaders such as Salvatore Mancuso.
Following his disappearance in 2004, rumours circulated that he had fled the country or was in hiding. However, in 2006, based on a confession as part of an amnesty, the authorities were led to his remains in a shallow grave.
The state prosecutor's office found that the nine men were responsible for the former paramilitary's death and that one of the accused - Jesus Ignacio Roldan, known as "Mono Leche" - had probably carried out the killing.
The former leader was reportedly killed over differences with other key leaders, including his brother, about the AUC's role in the lucrative cocaine trade.
For years, the AUC was largely funded through drug trafficking. Many of its original leaders have been killed, imprisoned or, in the case of Salvatore Mancuso, extradited to the US on drugs charges.
The government of former president, Alvaro Uribe, reached a peace agreement with the right-wing paramilitary army and tens of thousands of AUC fighters demobilised in 2006.
But critics say the paramilitaries have held on to their weapons and are now operating as criminal gangs across Colombia.