Colombia warns firms face expulsion for paying ransoms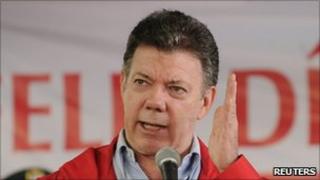 Colombian President Juan Manuel Santos has threatened to expel multinational companies who pay ransom money for the release of kidnapped employees.
Mr Santos was speaking three days after 23 men subcontracted to a Canadian oil company were kidnapped by left-wing rebel group, the Farc.
All but one of the kidnapped employees were freed on Tuesday.
The company, Talisman Energy, has denied paying a ransom and said it always followed Colombian law.
President Santos said that during their debrief by the security forces, some of the kidnapped employees reported hearing of a deal allegedly made by the company and the rebels.
"The rebels apparently mentioned 5,000 million pesos (£1.64m; $2.62m) and hinted that the sum had already been agreed with the company," the president said.
"We have to investigate further what that is about, but I have this warning: any company which pays a single peso to these bandits, leaves the country," he added.
"We can't allow anyone to keep feeding these bandits, because the only thing they're going to do with the money is create more violence and insecurity," Mr Santos said.
Multinational companies have been known to pay large sums in ransom and extortion money to Colombian armed groups.
In 2007, the fruit company Chiquita admitted paying almost $2m in protection money to right-wing paramilitaries.
Conflicting reports
The 23 kidnap victims were working for South American Exploration, a company subcontracted by Talisman Energy, when they were abducted on Monday in Puerto Principe de Guerima, in eastern Vichada province.
A representative for Talisman told the BBC that the company would never "contact, or negotiate with illegal armed groups, much less pay a ransom".
The workers, all of them Colombian nationals, were based at an oil camp in the region.
Twenty-two were freed on Tuesday, but there are conflicting reports as to whether the rebels let them go or whether the armed forces rescued them.
Defense Minister Rodrigo Rivera said intense military pressure had brought about their release.
Head of the Armed Forces Adm Edgar Cely said the security forces were continuing their efforts to free the remaining hostage, a topographer.
He said bad weather on Thursday meant the troops had not been able to gather much information on the whereabouts of the hostage.
Adm Cely also said that there were indications that the guerrillas had infiltrated the oil company's workforce and that someone on the inside had provided the rebels with information on the workers' movements.
He said that the mass kidnapping had been carried out after the Canadian firm refused to pay protection money to the rebels.
He urged all firms who were being threatened to refuse to pay and to turn to the armed forces for protection.
In a statement, Talisman said it was working with the Colombian military, the local community and partners to support efforts to free the remaining hostage.