Venezuela radical Lina Ron dies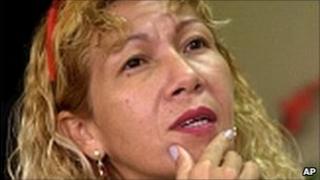 The radical Venezuelan political activist Lina Ron has died of a heart attack at the age of 53.
Ms Ron was a vocal supporter of President Hugo Chavez and led street protests that sometimes resulted in violence.
President Chavez paid homage to her as "a true soldier of the people" and "complete revolutionary".
While she was alive Mr Chavez sometimes criticised her tactics, accusing her of going beyond the bounds of the law.
With her platinum blonde hair and revolutionary speeches, Lina Ron was one of the best known activists on the radical wing of Mr Chavez's revolutionary movement.
In 2001 she led protests outside the US embassy after a short-lived attempt to overthrow the president.
In 2009 she was jailed for three months for leading a violent attack on the offices of the pro-opposition television station, Globovision.
Mr Chavez criticised that action, calling her "incontrollable".
He also once described her as a "a good woman, but she tends towards anarchy".
Ms Ron's best known slogan was "With Chavez, everything, without Chavez, bullets".
She once described herself as the "ugly part" of the revolutionary process.
She was the founder and leader of a small left-wing party, the Venezuelan Popular Union (UPV), which later joined Mr Chavez's Socialist Party.