Colombia: Gunmen attack bank helicopter and kill six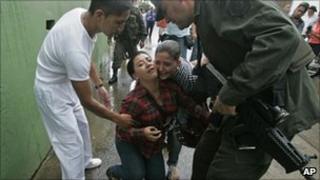 Six people have been killed in Colombia in an attack on a helicopter delivering money to a local bank.
Gunmen opened fire shortly after the helicopter landed in Caloto, in the south-western province of Cauca.
Four police officers and two civilians were killed while they were unloading the cash.
The head of Colombia's police General Oscar Naranjo, blamed the country's largest left-wing rebel group, the Farc, for the attack.
Gen Naranjo said the six had been victims of a cowardly attack while they were fulfilling their duty and guarding the money for delivery at the bank in Caloto.
"We're still talking to our sources, but we assume it was carried out by Farc terrorists," he said.
The attack comes just days after another policeman was killed and seven people injured in the same area.
Reports say the assailants failed to get away with the money.