Brazil police arrested in Rio corruption and gang purge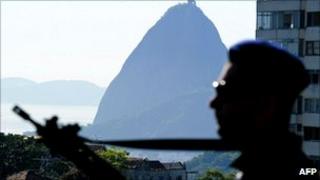 More than 20 police officers have been arrested in the Brazilian state of Rio de Janeiro in an operation to purge the force of links to criminal gangs.
Some officers are accused of working for drugs traffickers, others of helping illegal paramilitary groups that fight the security forces.
The allegations include selling guns and drugs that had been seized.
The arrests follow a long investigation by Brazil's federal police involving informants and phone taps.
"This was a first step towards rooting out the bad police in the state of Rio de Janeiro," said Angelo Fernando Goya, the federal police commander leading the operation.
'Beneficial in time'
In all, arrest warrants were issued for 45 people, including 32 civil or military police officers.
Nearly 400 federal police officers were involved in the arrests, many of them brought in from other areas.
"Nowhere in the world can the police make progress while they have this kind of people in their ranks," said Rio state's security chief, Jose Mariano Beltrame.
"It may be that this kind of operation is not good for the image of the police, but with time it will be very beneficial," he added.
Last December, 13 police officers were arrested on suspicion of belonging to a criminal gang accused of arms trafficking and extortion in a poor neighbourhood of Rio de Janeiro.
Rio's military police are on the front line of the fight against drugs gangs which dominate many of the city's poorest districts or favelas.
In recent months they have regained control of some of the most notorious gang strongholds with the support of the army.