Colombian ex-policemen arrested on corruption charges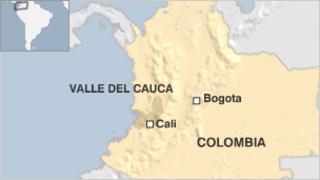 Eight former policemen have been arrested in Colombia on suspicion of collaborating with a drug gang.
Officials said they discovered the links when they seized computer memory sticks, which they say contained videos showing the officers being paid off by members of the Rastrojos gang.
The men are reported to have held influential police posts until 2009.
During that time they are accused of allowing the gang free reign in the Valle del Cauca region.
Detectives from Colombia's security police said they spent two years gathering evidence against the eight.
Valle del Cauca Security Police Director Julio Cesar Sanchez said the accused "facilitated" the actions of the Rastrojos gang and failed to control its spread in the region.
He said they effectively became collaborators of the gang, receiving payment in exchange for their help.
Last month, Interior Minister German Vargas Lleras said criminal gangs involved in drug trafficking such as the Rastrojos were "the new enemy" of the Colombian state.