Inquiry after Mexico prison inmate gets Botox injection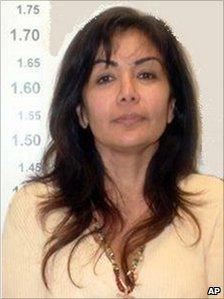 Mexican officials are investigating how a doctor was allowed to enter a prison and give a Botox injection to high-profile inmate Sandra Avila Beltran.
The doctor performed an "unauthorised procedure" at the jail on the outskirts of Mexico City, officials said.
The prison's director and hospital chief have been relieved of duties.
Ms Avila Beltran, dubbed the Queen of the Pacific, was last year cleared of trafficking charges but prosecutors are appealing against the decision.
"The doctor was admitted by the person in charge of the medical area, violating all procedures. The aim was to carry out a therapeutic treatment that is not authorised for inmates," a prison authority statement said.
The Botox procedure was reported to have taken place last month.
Ms Avila Beltran has been in custody since 2007, accused of involvement in drug-trafficking and money-laundering.
She was alleged to be a top leader of one of Mexico's most powerful drug gangs, the Sinaloa cartel, earning her the Queen of the Pacific name.
However, last December a judge acquitted her, saying the prosecution had not presented sufficient evidence.
Ms Avila Beltran has remained behind bars while prosecutors challenged the ruling.
The US is also seeking her extradition in connection with drug-trafficking.
Ms Avila Beltran has denied any connection to illegal drugs, saying she made her money by selling clothes and renting houses.
Related Internet Links
The BBC is not responsible for the content of external sites.