Haiti's ex-leader Duvalier: Frozen Swiss funds not mine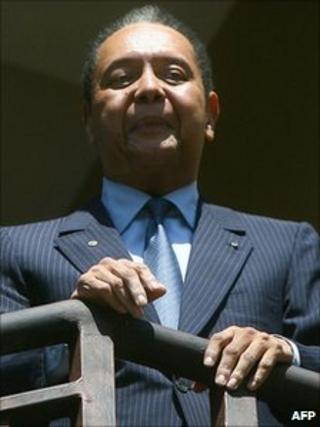 Haiti's ex-leader Jean-Claude Duvalier says millions of dollars frozen in Swiss bank accounts are not his.
He told broadcaster Univision that the funds of some $6m (£3.7m) belonged to a foundation set up by his family and should be used to rebuild Haiti.
Mr Duvalier, who is facing charges over abuses during his rule, also dismissed accusations he was a tyrant.
The Swiss authorities froze the assets under a new law that could ease the way for them to be returned to Haiti.
Mr Duvalier, in an interview in Port-au-Prince with the Spanish-language broadcaster, said he had never had any personal accounts frozen.
"As soon as they release those funds, most of them will be used to rebuild the city of my mother's birth," he said.
Mr Duvalier's critics allege more than $100m was embezzled during his 15 years in power, accusations he denies.
Surprise return
For the past 25 years, the Swiss government and the Duvalier family have fought a legal battle over the funds, which were frozen when Mr Duvalier was ousted in 1986 and fled to Europe.
Last year, a Swiss court ruled that the money should be returned to him and his family.
In response, the Swiss government sought new legislation to close a legal loophole.
The new law , which took effect on 1 February, allows the Swiss authorities to confiscate funds believed to have been stolen and return them to the country of origin, even if the nation in question cannot seek restitution through the courts.
The Swiss government, which has said it wants to return the money to Haiti to fund aid projects, said it was starting legal proceedings to confiscate the Duvalier funds.
"Representatives of the Duvalier family will get the opportunity to prove the lawfulness of the blocked assets during the confiscation procedure before the Federal Administrative Court," a government statement said.
Violations
Mr Duvalier - also known as Baby Doc - made a surprise return to Haiti last month after years in exile in France, saying he wanted to help the country rebuild after last year's devastating earthquake.
He has been charged with theft and misappropriation of funds during his 1971-86 rule and is also being sued for torture and other crimes against humanity.
The former "president for life" told Univision that he was responsible for introducing democracy to Haiti.
"I was the one who started a democratic process. When they talk of me as a tyrant, it makes me laugh," he said.
The UN High Commissioner for Human Rights, Navi Pillay, has said she offered the Haitian authorities technical assistance to prosecute crimes committed under Mr Duvalier's rule.
Ms Pillay said there was no statute of limitations under international law for serious violations such as torture, extrajudicial killing and rape.
"Haiti has an obligation to investigate the well-documented serious human rights violations that occurred during the rule of Mr Duvalier, and to prosecute those responsible for them," she said.
"Such systematic violations of rights cannot remain unaddressed. The thousands of Haitians who suffered under this regime deserve justice," she added.