Switzerland blocks funds of Haiti ex-leader Duvalier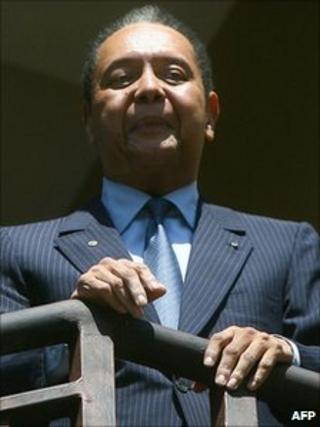 Switzerland says it has blocked funds held by the former Haitian leader, Jean-Claude Duvalier.
His Swiss bank accounts have been frozen under a new law that could see millions of dollars returned to Haiti.
Meanwhile, the UN human rights office has offered to help Haiti prosecute crimes committed during Mr Duvalier's 1971-1986 rule.
Mr Duvalier - also known as "Baby Doc" - made a surprise return to Haiti last month after 25 years in exile.
He has been charged with theft and misappropriation of funds during his 1971-1986, rule and is also being sued for torture and other crimes against humanity.
He has denied wrongdoing.
Mr Duvalier's critics allege he stole millions from Haiti during his rule.
Assets
Funds of some $6m (£3.7m) were initially frozen by Switzerland in 1986 after Mr Duvalier was ousted as Haitian president and fled to Europe.
But last year, a Swiss court ruled that the money should be returned to him.
In response, the Bern government sought a new law covering the restitution of the money to Haiti.
The new law took effect in Switzerland on 1 February, governing the "freezing, forfeiture and restitution" of assets.
It allows the Swiss authorities to confiscate funds and return them to the country of origin, even if the nation in question cannot seek restitution through the courts.
The new legislation was drawn up with the case of Mr Duvalier partly in mind.
If Mr Duvalier wants the accounts to be unblocked, he will have to show that the money was earned legitimately. If he cannot, the money will be returned to Haiti.
Violations
Meanwhile, the UN High Commissioner for Human Rights, Navi Pillay, said she had offered the Haitian authorities technical assistance to prosecute crimes committed under Mr Duvalier's rule.
Ms Pillay said there was no statute of limitations under international law for serious violations such as torture, extrajudicial killing, and rape.
"Haiti has an obligation to investigate the well-documented serious human rights violations that occurred during the rule of Mr Duvalier, and to prosecute those responsible for them," she said.
"Such systematic violations of rights cannot remain unaddressed. The thousands of Haitians who suffered under this regime deserve justice," she added.
Mr Duvalier has said that he returned to Haiti after years in exile in France in order to help the country rebuild after last year's devastating earthquake.