Haiti to issue ex-president Aristide with passport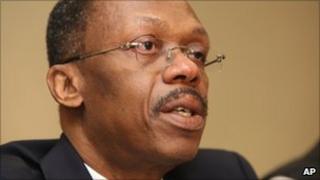 The Haitian government says it is ready to issue former president Jean-Bertrand Aristide with a passport, opening the way for his possible return.
Mr Aristide was ousted seven years ago, and has been living in exile.
The news comes at a critical time, with the final results of the disputed first round of the presidential election due on Wednesday.
He would be the second ousted president to return, after the surprise arrival two weeks ago of Jean-Claude Duvalier.
General Secretary for the Haitian Presidency Fritz Longchamp told the Reuters news agency that "the Council of Ministers, under the leadership of President Rene Preval, decided that a diplomatic passport be issued to President Aristide, if he asks for it."
The ministry of information issued a statement saying that as soon as it received a request from Mr Aristide, it would swiftly grant him the passport.
Mr Aristide's lawyer quashed rumours that the former leader was already in Cuba, awaiting passage to Haiti.
The lawyer said he had asked the Haitian government to facilitate "his immediate return".
Political tension
The move to grant Mr Aristide a visa comes as political tension runs high in Haiti, ahead of Wednesday's expected announcement of final first round results from November's presidential election.
Preliminary results put government-backed candidate Jude Celestin in second place behind former first lady Mirlande Manigat, with pop star Michel Martelly in third.
But international observers said the election was marred by widespread vote rigging in favour of Mr Celestin.
Supporters of Mr Martelly took to the streets in protest demanding that their candidate go through to the second round.
The United Nations, the Organisation of American States and US officials have recommended Mr Celestin be dropped from the race because of irregularities in the tally.
His party has withdrawn its backing, but Mr Celestin has refused to confirm that he is pulling out.
Political tension was further heightened by the return of former leader Jean-Claude "Baby Doc" Duvalier on 16 January after 25 years in exile.
Long-planned return
Mr Aristide already announced his desire to return to Haiti a year ago, shortly after the devastating earthquake which left much of the country destroyed.
At the time, he said he wanted to return to help his countrymen recover from the quake.
Mr Aristide was the first democratically elected president of Haiti.
The former Catholic priest first came to power in 1990, but was ousted only months later in a coup led by Brigadier-General Raoul Cedras.
He returned to Haiti in 1994 after the military regime relinquished power in the face of an imminent US invasion. He served his term until 1996.
He was re-elected in 2000 but was forced out of power again early in 2004, after several months of increasing political turmoil.
Analysts say he still commands a sizeable group of supporters.
Mr Aristide's party, Fanmi Lavalas, was barred from standing in the current election, allegedly due to technical errors in its application forms.