Colombian navy seizes cocaine-laden speedboat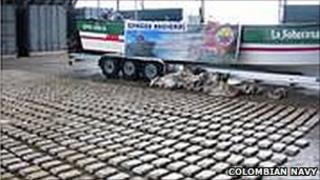 The Colombian navy says it has seized a boat smuggling more than a tonne of cocaine.
Navy personnel chased the speed-boat along the Pacific coast of Choco province.
Two of its occupants jumped from the ship and escaped, a third man was arrested.
A navy official said that so far this year his force had seized almost two tonnes of cocaine, in Pacific waters alone.
The official said the cocaine seized from the speedboat was worth around $30m (£19m).
Drug traffickers often use the dense jungle areas of Choco to launch boats loaded with drugs heading for Panama and beyond.