Collapse of 30-storey building in Brazil traps three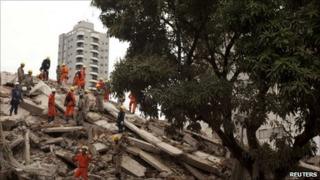 Rescue workers in the Brazilian city of Belem, in the northern state of Para, are searching the rubble of a collapsed building for three construction workers.
A union representative said the three had been trapped when the building, which was still under construction, caved in.
Six people, most of them passers-by, are being treated for minor injuries.
Police have cleared adjacent buildings for fear they too could collapse.
The union representative said that seven workers had been working in the building, which was due to be finished in December of this year.
He said four of them had left the site before the accident occurred. The other three men are still missing.
Neighbours reported hearing a loud rumbling sound followed by what resembled an explosion.
They said the area was covered by a plume of white dust.
Para state Health Minister Helio Franco said all the emergency services were on the scene to search for possible victims and survivors.