Haiti sets date for election results and second round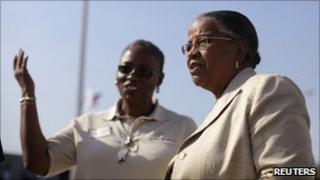 The final results of the first round of Haiti's presidential election will be announced on Wednesday, the electoral council has said.
The preliminary results sparked days of unrest when the government-backed candidate narrowly edged a popular singer out of the second round run-off.
International monitors ruled that the results were rigged.
The second round was supposed to take place two weeks ago but was postponed because of the dispute.
Haiti's electoral council announced a new date of 20 March for the second round and said the final results would be out on 31 March.
The new schedule was published on Friday after weeks of delays and rescheduling.
Second round uncertainty
Mirlande Manigat, a former first lady, won the first round on 28 November but it is not entirely clear who she will face in the run-off.
Preliminary results gave the government-backed Jude Celestin 7,000 more votes than pop star Michel Martelly.
But within hours of the announcement, there were protests and riots by supporters of Mr Martelly, who complained of vote-rigging.
The incumbent President, Rene Preval called in a team of international monitors who found widespread fraud in Mr Celestin's favor and recommended that he withdraw.
Under sustained international pressure, the ruling party, Inite, withdrew Mr Celestin from the race earlier this week but the candidate himself has refused to confirm that he will not take part.
"Politically Mr Celestin is out of the race. Diplomatically there are a lot of pressures to put Mr Celestin out. But legally Mr Celestin is still in the race," his adviser Wesny Fevry told Reuters news agency on Friday.
Washington has led warnings that Haiti must install a credible government or risk losing international aid and support.
US Secretary of State Hillary Clinton flies into Haiti on Sunday for talks with President Preval about the elections and about reconstructing the country after last year's devastating earthquake.
The State Department says she will also meet election candidates in Haiti.