Cuban dissident Guillermo Farinas released a third time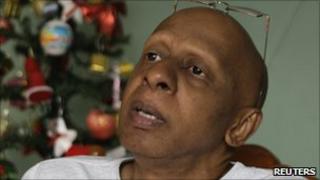 Police in Cuba have released leading dissident Guillermo Farinas after his third arrest in 48 hours.
His mother said his latest arrest had come with around 10 other dissidents while laying flowers at a monument to Cuba's independence leader Jose Marti.
He was freed after being taken to hospital, complaining of chest pains.
Farinas gained international attention in 2010 when he came close to death after staging a 134-day hunger strike and was fed intravenously.
"His health is delicate, and doctors have recommended rest," his mother, Alicia Hernandez, said.
Continuing opposition
On Wednesday, Mr Farinas was detained for six hours after he and at least 17 other people tried to prevent the eviction of a woman and her two children from a disused property in Santa Clara.
On Thursday, Mr Farinas was arrested with at least 10 other people near the home of another local opposition figure, Idania Yanez Contreras, and held overnight.
After his release on Friday, Mr Farinas told the Reuters news agency his arrests were a sign that the Cuban government was stepping up its "harassment of the opposition".
He said police had told him that because of "special political circumstances" the dissidents would not be allowed to conduct any protests.
"They're afraid people may take to the streets," he told Reuters.
Mr Farinas, a doctor of psychology and journalist, has spent more than eleven years in prison for a variety of offences and has staged dozens of hunger strikes.
He started his 23rd hunger strike in February 2010 in protest at the death of fellow dissident and hunger striker Orlando Zapata.
He ended the protest in July, when Cuban President Raul Castro authorised the release of 52 of the island's most prominent prisoners of conscience.
The EU awarded him its Sakharov Prize for Freedom of Thought last December, although he was not allowed to leave Cuba to collect the award.