Jude Celestin 'withdrawn from Haiti presidential poll'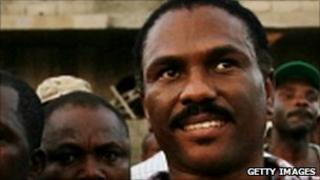 The governing party candidate in Haiti's disputed presidential election, Jude Celestin, is being withdrawn from the second round, his party has said.
There has been pressure on him to quit after monitors found first round results were rigged in his favour.
His withdrawal seems to clear the way for a run-off between Mirlande Manigat and Michel Martelly, but there has been no word from Mr Celestin himself.
The US and UN both called on Mr Celestin to pull out of the race.
Observers said the first round of the election in November was marred by widespread fraud.
Preliminary results put Mr Celestin in second place behind former first lady Mirlande Manigat, with pop star Michel Martelly in third.
But this provoked violent protests by Mr Martelly's supporters, who said the result had been fixed by the government to ensure Mr Celestin - who was backed by outgoing President Rene Preval - went through to the second round.
The run-off was delayed while experts from the Organisation of American States analysed the results.
They found in Mr Martelly's favour, and recommended Mr Celestin be dropped from the race because of irregularities in the tally.
Credible government
President Preval and the electoral council have been under growing international pressure to accept that recommendation.
"Even though we are certain Jude Celestin received the necessary number of votes and was therefore through to the second round, Inite [Unity] has agreed to withdraw his candidacy for the presidency," said a statement by the party.
But Unity official and former Senator Joseph Lambert told the Associated Press news agency a decision to drop out of the race could only legally come from the candidate himself.
The US has led warnings that Haiti must install a credible government or risk losing international aid and support.
Last week UN peacekeeping chief Alain Le Roy warned that Haiti could face a constitutional crisis with the possibility of "considerable unrest and insecurity" if Mr Celestin did not withdraw.
Political tension has been further heightened by the return to Haiti of the former leader, Jean-Claude "Baby Doc" Duvalier, after 25 years in exile.
The second round was supposed to take place on 16 January but was postponed because of the dispute.
Whoever eventually wins the election will face the task of rebuilding Haiti after the devastating earthquake of a year ago, which killed around 250,000 people and left the capital, Port-au-Prince, in ruins.