Cholera alert reaches Venezuela via Dominican Republic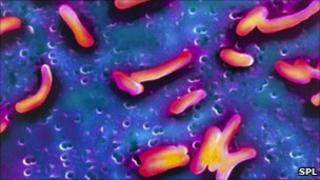 More than 20 Venezuelans have contracted cholera after visiting the Dominican Republic, the Venezuelan health ministry has said.
The patients were taken to hospital in Caracas after showing symptoms and were being kept in quarantine.
They had travelled to the Dominican Republic for a wedding.
Cholera reached the Dominican Republic last November from neighbouring Haiti, where an epidemic has killed almost 4,000 people.
A number of other Venezuelans are also thought to have the disease.
"The people must remain calm because all those infected had attended a family gathering in the Dominican Republic," said Venezuelan Health Minister Eugenia Sader.
She added that Venezuela had sufficient medical supplies to treat 10,000 cholera cases.
The Dominican Republic has recorded 238 cases of cholera and registered its first cholera death last Sunday. The victim was a 53-year-old Haitian man.
In Haiti, almost 200,000 people have been infected since the epidemic broke out in October, but aid agencies say the rate of infection has slowed.
For Haiti and the Dominican Republic, which share the island of Hispaniola, it is the first cholera outbreak in more than a century.
Venezuela, in contrast, has suffered occasional outbreaks in recent decades.
Cholera is a bacterial disease spread by contaminated drinking water or food, but is treatable with oral or intravenous rehydration and antibiotics.