Venezuela's Carlos Andres Perez burial limbo continues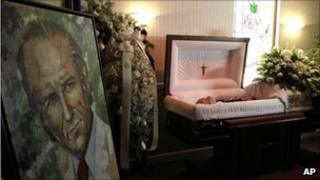 The body of the former Venezuelan President Carlos Andres Perez will remain in a Miami funeral home until a trial in March to decide where he should be buried, a judge has ruled.
The body of Mr Perez is the subject of a legal stand-off between the two main women in his life.
His estranged widow wants to bring him back to Venezuela for burial.
But his long-term mistress insists he wanted to be buried in Florida, his home for more than a decade.
Lawyers for the two families have now agreed that his body will stay in a refrigerated unit in the funeral home until the legal stand-off is resolved, with the cost shared between them.
Mr Perez died of a heart attack in Miami on 25 December, at the age of 88.
The family feud erupted soon after his death.
Mr Perez's long-term partner Cecilia Perez Matos and their two daughters say he had made clear he did not want to be buried in Venezuela as long as President Hugo Chavez was in power.
But Mr Perez's estranged wife, Blanca Perez Rodriguez, whom he never divorced, insists she has a legal right to bring his body back to Venezuela. She and her children filed a suit to stop his burial in Florida.
Rocky presidency
Mr Perez served as president of Venezuela between 1974 and 1979, and again between 1989 and 1993.
His second term was marred by allegations of corruption. After standing down, he was sentenced to 28 months in prison for misappropriation of public funds.
He spent the first few months in a jail in Caracas, but was allowed to serve the rest of his term under house arrest.
He survived two coup attempts in 1992, the first of which was led by Mr Chavez, who was then a young army lieutenant colonel.
Based in Miami, Mr Perez fought extradition demands by the current Venezuelan government over his role in the suppression of riots in 1989, when hundreds of people were shot by the army.