How Bolivian Juan Carlos Aduviri won big film role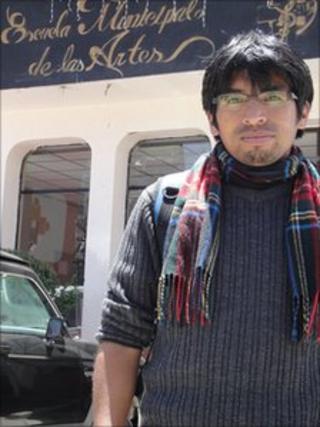 Juan Carlos Aduviri owes his passion for film in large part to a knife-wielding, gun-toting Vietnam War veteran.
He was eight years old and his brother took him to the cinema for the first time.
"It was showing Rambo. And that day I realised what I wanted to do. When I left the cinema, I said: I want to make films," he says.
Aduviri, an indigenous Aymara from Bolivia, has now realised his dream, having been nominated for Best Newcomer award at Spain's main film awards, the Goyas, which take place on 13 February.
The nomination recognises his performance in Even the Rain, a Spanish film set during the real-life protests of more than 10 years ago in the Bolivian city of Cochabamba against the planned privatisation of water services.
It tells the story of Sebastian, played by Mexican actor Gael Garcia Bernal, who travels to Cochabamba to make a historical film about the Spanish conquest of the Americas.
In the film, Aduviri plays the part of Daniel, who is hired by Sebastian to star in his film as an indigenous chief who resists the conquistadors.
But Daniel must also balance his role as a protest leader in what became known as the "water wars" which unfolded in Cochabamba during the shooting of the film.
'It's him'
Aduviri says he never intended to act in the Spanish film.
"I was too lazy to queue up for the casting," he admits. "So I didn't go."
But eventually, at the insistence of a friend, he reluctantly auditioned for the film the following day, and his demo tape was sent to Madrid.
"The casting directors see it there, make a selection, and show my work to Iciar Bollain, the film director. And Iciar says: it's him - he's our actor," says Adurviri.
His phone never stops ringing. He has been inundated by interview requests from local and international media, all wanting to hear how an indigenous Bolivian from a poor background managed to get nominated for a prestigious film award.
Aduviri has always lived in El Alto, an urban sprawl of nearly one million people near La Paz, which did not have a film school until 2006.
"Conditions in Bolivia to make a film are challenging and in El Alto, it's even more difficult," he says.
Inspiration
After studying screenwriting, Aduviri began teaching at the school "to give a voice to all the talent that we're losing to alcohol, drugs, prostitution, homelessness and gangs.
"Life is hard here in El Alto, and this film school is trying to rescue this talent, and support these young people."
Two of his students sit with him in a classroom at the Municipal Arts School of El Alto. Its bare walls and broken windows highlight the lack of resources.
But for Edson Chambiborque, his teacher is the living proof that it is possible to follow your dream.
"He has taught us to value the little that we have in this school, and never drop our heads despite all the difficulties we may have," he says.
Schoolmate Angel Lapaza also wants to be a screenwriter and director, and dreams of treading the red carpet one day. He says his teacher is an inspiration.
"I feel proud that someone from the school here in El Alto, from Bolivia, is nominated for the Goyas, representing Bolivia and the city of El Alto," says Angel.
The son of a miner and a shepherdess, Aduviri earns just over $200 (£125), a good salary by Bolivian standards but he still lives in his family home in a poor neighbourhood.
His father did not live to see his success, dying of lung disease, a common illness among Bolivia's miners, a couple of years ago.
Film centre
Aduviri's 70-year-old mother, Ponciana Luna, has watched the trailer of the film, but still finds it hard to fully understand what her son does.
When asked what she would do if Aduviri were offered more financially rewarding work abroad, she says she has always supported him.
"I can't stop him, saying he can't do that. No. If he wants to do that, he should do that."
But for now, Aduviri does not dream of emigrating. He says his life is in his birth city, which he wants to make the centre of Bolivian film-making.
His biggest dream is to be one day at the Cannes Film Festival to collect the Palme d'Or for Best Film.
"If we can help others, in this case in cinema, to achieve their dreams, I will also achieve them.
"And to be in this film, to be given this opportunity, to be speaking today with the BBC, I too am achieving my dreams."