Chile's President Pinera in surprise helicopter landing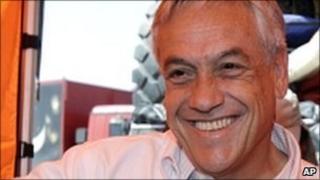 Chilean President Sebastian Pinera has been accused of acting irresponsibly after he landed his helicopter on a main road after running out of fuel.
Amateur video showed Mr Pinera, who was at the controls for the emergency landing near Cobquecura, asking locals where he was and then calling in a police helicopter to bring more fuel.
Opposition lawmakers have called for an investigation, saying the president had taken unnecessary risks.
Mr Pinera has laughed off the incident.
"Unfortunately, helicopters and cars need fuel," he joked on Sunday after the video was broadcast.
But some lawmakers have queried whether he broke the law by landing on a public highway, and asked how much the rescue cost.
"It cannot be possible that Mr Pinera, even though he is president, can land wherever in the country, putting people's safety at risk," said Gabriel Asencio of the opposition Christian Democrats.
The Chilean president, who is also a billionaire businessman and investor, has been a pilot for more than five years.
He has insisted on continuing to fly while in office so as to keep up his licence.
After the unscheduled refuelling stop near Cobquecura, 270km (170 miles) south of the capital Santiago, Mr Pinera flew on to a property he owns at Lago Ranco, 430km (270 miles) further south.