Mexico bishop and indigenous champion Samuel Ruiz dies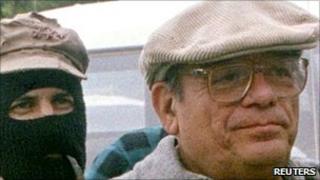 The Mexican bishop and indigenous rights campaigner, Samuel Ruiz Garcia, has died at the age of the 86.
He passed away in hospital in Mexico City from complications arising from respiratory problems and diabetes.
Samuel Ruiz served as bishop of San Cristobal de las Casas in the southern state of Chiapas for four decades.
He was best known for his role as mediator in the conflict with Zapatista rebels, and was nominated for the Nobel Peace prize several times.
President Felipe Calderon said his death was a "big loss" for Mexico.
"Samuel Ruiz worked to build a fairer, more equal, more dignified Mexico without discrimination, where indigenous communities have a voice and where their rights are respected by all," Mr Calderon said in a statement.
Bishop Ruiz led the diocese of San Cristobal de las Casas from 1959 to 2000, when he stepped aside on reaching the retirement age of 75.
Inspired by the liberation theology that swept the Roman Catholic Church in Latin America in the 1960s, he was an outspoken advocate for the rights of the indigenous Maya people of Chiapas, who are among Mexico's poorest and marginalized communities.
His followers knew him as "The Bishop of the Poor" or simply as "Jtatic" - father in the Tzotzil Maya language.
Peace broker
On 1 January 1994 Chiapas saw a shortlived armed uprising by a previously unknown rebel group, the Zapatista National Liberation Army (EZLN), which said it was fighting for indigenous rights.
Bishop Ruiz was chosen to mediate between the government and the rebels.
In 1998 he was pressurized to resign as mediator by the government, amid allegations that he was too sympathetic to the Zapatistas, but the uneasy truce he helped to establish in Chiapas has held ever since.
Bishop Ruiz was also criticised by conservatives in the Church who saw him as too influenced by left-wing political ideas and too flexible in his approach to indigenous religious practices that combined Catholicism with traditional Maya beliefs.
The conflict in Chiapas raised his international profile, and he became a widely-respected advocate of indigenous rights throughout Latin America.
One of his legacies is the Father Bartolome de las Casas Human Rights Centre, which he founded in 1989.
The organisation is named, like the diocese Bishop Ruiz represented, after a 16th Century Spanish priest and defender of indigenous rights.