Mexico police arrest Acapulco 'cartel leader' Lozano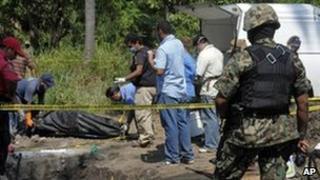 Police in Mexico have arrested a man they say is responsible for the killing of 22 people in the beach resort of Acapulco earlier this month.
Jose Lozano Martinez is believed to be the leader of a local drugs gang, the Independent Acapulco Cartel.
He has also been linked to the disappearance of 20 men from the neighbouring state of Michoacan.
Mr Lozano, 21, was arrested along with six other alleged gang members after a car chase in Acapulco.
The Independent Acapulco Cartel is known for its extreme violence.
Many of the men believed to have been murdered by the cartel had also been mutilated and beheaded, their severed heads dumped next to them outside a shopping centre.
Gang rivalry
Public security officials said Mr Lozano was also wanted in connection with the case of 20 men from Michoacan, who were seized during a weekend trip to Acapulco.
The families of the men, many of whom were related, said most of them were mechanics who saved up money to take a vacation together each year.
Eighteen of their bodies were later recovered from a mass grave near Acapulco. Two men are still missing.
Police say another suspected drugs baron, who was captured in November, has revealed that the 20 were the victims of mistaken identity.
Police quoted him as saying a faction of his gang had mistaken the Mexican tourists for members of a rival cartel.
Acapulco is at the centre of a violent battle between rival gangs for control of the city.