Venezuela-Cuba undersea cable link work starts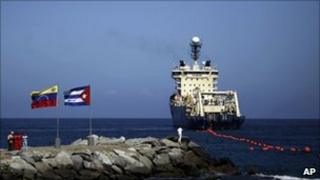 Work has begun on laying an underwater fibre-optic cable to link Venezuela and Cuba.
It will stretch 1,600km (1,000m) and considerably improve telephone and internet services to Cuba, which currently relies on a costly and slow internet connection via satellite.
The new connection is expected to increase data capacity 3,000 times.
The cable, laid by French company Alcatel-Lucent, is expected to be operational in July.
In a televised ceremony, divers attached the cable to the seabed to the applause of Cuban and Venezuelan officials.
Cuban officials praised the cable for breaking the country's "historic dependence [on the United States] in the sphere of telecommunications".
And Venezuelan Minister for Science and Technology Ricardo Menendez was heard shouting "Venezuela's breaking the embargo!".
Broader access?
Cuban officials blame the decades-old US trade embargo, imposed shortly after the Cuban revolution, for the slow connection and low internet take-up.
According to Cuban government figures, only 16% of the population have access to the web - one of the lowest internet usage rates in South America.
But it is not just low bandwidth and high cost which are making web access difficult for Cubans.
Analysts say government restrictions demanding that people using the internet obtain official permission are keeping many from using the web.
And in November, the official communist party newspaper Granma already dashed the hopes of those who had thought the new cable would bring the internet to more homes.
In an article, praising the undersea communication line, an official said it would provide higher quality communications, "but not necessarily mean a broader extension of the same".